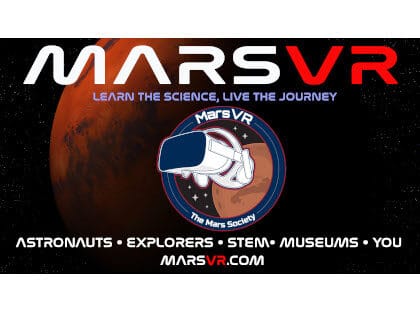 The Mars Society's MarsVR team are beginning a new Indiegogo Update series that will feature one of our partners each week for the duration of our Indiegogo crowdfunding campaign and beyond!
The first partner to be mentioned in detail is Pyramid Games. It's a game development studio currently working on an open-world Mars survival game: Occupy Mars. They have been hard at work on this project for a couple of years.
Starting today, if you select our "Place a Name" pledge level for the MarsVR Indiegogo campaign, your name will also be added somewhere inside the base of Occupy Mars: The Game. It's a great way to be remembered as a donor or as a gift for somebody special!

Like MarsVR, Occupy Mars is a highly technical, open world, sandbox project about Mars settlement. What makes our projects different, but complementary is that Occupy Mars is a traditional computer game and presents a story and vision of the future, while our MarsVR is a virtual reality experience that aids in training and the story of present research into human settlement concepts, centered on our Mars Desert Research Station.
Over time, MarsVR will have additional gamified science modules as well, and Occupy Mars will likely have DLC that presents additional missions, technologies, and science concepts. Both projects are inspired by the most promising technologies and efforts to work towards the goal of becoming a multi-planet species.
In Occupy Mars, players will be able to build and upgrade the base, conduct mining operations, retrieve water and generate oxygen, grow crops, fix broken parts and learn how to survive on Mars. The game is currently in the final stage of development before the Early Access launch. Make sure to add it to your wishlist on Steam to get notified on launch!
Click the image or here for a link to the Occupy Mars cinematic trailer.
Pyramid Games focuses on games combining science & education with science-fiction. Last year they released Rover Mechanic Simulator – a very detailed simulator of fixing real Mars Rovers such as Sojourner, Opportunity, Curiosity and, recently, Perseverance. The game is a great way to learn about the Rovers and their scientific instruments.
Recently Pyramid Games created a youtube miniseries called "TightBeam from Mars". In the next episodes they will show the reality of life on Mars, how to grow plants, use the airlock, the spacesuits and other parallels between different programs in the analog research world.
Here's the preview of the first episode:
MarsVR will be collaborating with the team of Occupy Mars in several ways, including future episodes of this documentary series that will feature our work on MarsVR, the Mars Society and our Mars Desert Research Station (MDRS) in Utah and our Flashline Mars Arctic Research Station (FMARS) in Canada.
So remember: Learn the Science, Live the Journey and we'll see you on Mars!