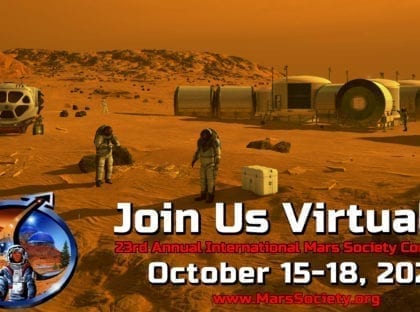 The Mars Society is pleased to announce that the 23rd Annual International Mars Society Convention will be convened Thursday-Sunday, October 15-18, 2020 all over the world via the Internet!
Through the use of unique technology provided by the TMRO company (Anaheim, CA), it will be possible not only hold debates, panel discussions and presentations, but to allow people from all countries to participate, posing questions and interacting with each other, creating a global teleconvention of a type never before seen.
Commenting on the decision to hold a virtual worldwide forum, Mars Society President Dr. Robert Zubrin said, "A few weeks ago we were set to announce a traditional convention to be held at the excellent facilities offered by the University of Southern California (Los Angeles). Unfortunately, the coronavirus epidemic intervened, making such an event impossible. But necessity is the mother of invention, so we are going to try something totally new. If it works, it could become a model for how scientific congresses can be conducted worldwide from now on, with much lower cost and much wider participation. So let's make it work!"
The four-day space conference will be free of charge and bring together prominent scientists, policymakers, entrepreneurs and space advocates to discuss the significance of the latest scientific discoveries, technological advances and political-economic-social developments that could affect plans for the human exploration and settlement of Mars. As always, the international convention will involve a wide variety of timely plenary talks, panel discussions and public debates concerning key issues bearing on human Mars exploration.
Conference highlights will include the latest exploratory results from the Curiosity and InSight missions and the Mars Express, ExoMars Trace Gas, Mars Reconnaissance and MAVEN orbiters. In addition, there will be an update on the upcoming ExoMars and Perseverance missions.
A number of special events will also be held during the convention:
The final face-off of the Mars City State Design Contest, in which ten finalists drawn from around the world will present their creative designs for a Mars city state of 1,000,000 people before a panel of judges and the global space community.
A wide-ranging discussion on SpaceX's plans to use its Starship launch vehicle to open the way to exploring the Red Planet.
The annual keynote address and entertainment during the Saturday evening banquet – which will be held virtually, so the menu is unlimited!
A detailed presentation about the 2019-20 crew simulations at the Mars Desert Research Station (MDRS) in southern Utah and planning for the next crew mission to the Flashline Mars Arctic Research Station (FMARS) in northern Canada.
To register for the 23rd Annual International Mars Society Convention, please click here. For convention updates in the coming weeks and months, please visit our web site: www.marssociety.org or one of our many social media platforms (Facebook, Twitter, Instagram, Linkedin or Reddit).
Call for Papers
Presentations for the 23rd Annual International Mars Society Convention in October are invited dealing with all matters (science, engineering, politics, economics, public policy, etc.) associated with the exploration and settlement of the planet Mars.
Abstracts of no more than 300 words should be sent by July 31st. Those submissions received after the deadline may not be included in the convention literature and are lower priority for adding to the final schedule.
Those intending to submit an abstract for consideration should complete the online form located at: http://abstracts.marssociety.org. Thank you, and we look forward to your submissions.
Image background courtesy NASA