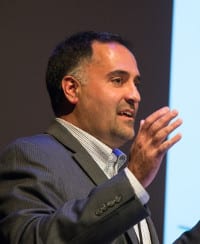 The Mars Society is pleased to announce that Dr. Ashwin R. Vasavada, JPL Project Scientist for NASA's Mars Science Laboratory (MSL), also known as the Curiosity rover, will give a plenary talk about MSL's current operations on the Red Planet during the 22nd Annual International Mars Society Convention (October 17-20) at the University of Southern California in Los Angeles.
Dr. Vasavada has been the lead scientist for the MSL mission since 2015, having served prior to that as deputy project scientist for ten years, overseeing the rover's efforts to search for and assess past or present habitable environments, including those capable of supporting microbial life. In addition, he served as Co-Investigator for the Lunar Reconnaissance Orbiter Diviner Radiometer, designed to measure surface temperatures on the Moon.
Dr. Vasavada received his Ph.D. in Planetary Science from the California Institute of Technology in 1998 and his B.S. degree in Geophysics and Space Physics from the University of California Los Angeles in 1992. He also was the recipient of the JPL People Leadership Award in 2017 and the NASA Exceptional Achievement Medal in 2013.
For more details about the 2019 International Mars Society Convention, including registration and volunteer information, please visit our web site (www.marssociety.org). A list of confirmed speakers and a tentative program itinerary will be posted online in the coming days.