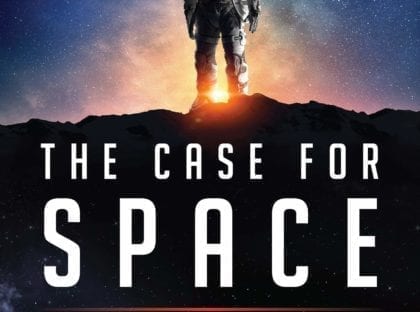 Mars Society president Dr. Robert Zubrin has published a new book. Entitled "The Case for Space: How the Revolution in Spaceflight Opens Up a Future of Unlimited Possibility," the book has received rave reviews in USA Today and Forbes.
According to Glenn Reynolds, writing in USA Today: "In his new book …The Case For Space: How the Revolution in Spaceflight Opens Up a Future of Limitless Possibility, famed astronautical engineer Bob Zubrin talks about the how and the why of our new exploratory era. It's a must-read for anyone interested in the subject, and will probably be read by historians of our era centuries hence."
Writing in Forbes, Greg Autry says; "While the founder and President of The Mars Society has long been associated with efforts to colonize the Red Planet, his new book makes it clear that he does not suffer from planetary myopia. Just the opposite. Dr. Zubrin sees Mars as a critical element in a solar system well organized to serve humanity. The Case for Space demonstrates the author's rare breadth of domain knowledge, which covers engineering, science, economics and policy as well as his depth of knowledge on every significant destination in the solar system from the Moon to the outer planets….Zubrin understands that going to space is not just desirable, it is necessary to the survival of the ideals of liberty that established our nation. He writes, "Without a frontier from which to breathe life, the spirit that gave rise to the progressive humanistic culture that America has offered to the world for the past several centuries is fading." The alternative to space is cultural homogenization, stagnation and authoritarian control over dwindling limited resources. Those of us deeply embedded in the space community understand that space development is the Rx for a dismal Malthusian future and Zubrin makes our case better than anyone has to date."
Commenting on the book, Apollo 11 pilot Buzz Aldrin says, "At last, here is the vision we were aiming for when we landed on the Moon. The Case for Space is the case for the future."
You can get a copy of The Case for Space at Amazon. If you buy through this link – https://amzn.to/2MePYfR – part of every purchase will help fund the work of the Mars Society.
Dr. Zubrin will be a guest on the new Mars Talk podcast on Friday, May 31st to discuss his new book. Check our website and the Mars Talk website to access the podcast.