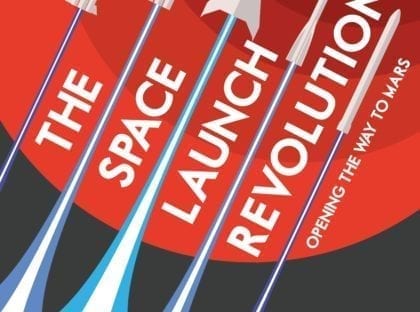 The Mars Society is very pleased to announce the winner of its 2019 Mars Society Poster Contest – Joseph Sweeney of Shrewsbury, Massachusetts. In addition to being a creative designer, Joseph is a data analyst and program manager and is also the founder of 'Aspiring Martians.'
Graphic artists who participated in the annual competition were asked to submit a poster using the theme "The Space Launch Revolution: Opening the Way to Mars" for the 22nd Annual International Mars Society Convention (October 17-20 at the University of Southern California). The winning poster will be used to help publicize the organization's four-day science conference and will also be incorporated into the event's promotional material.
The Mars Society would also like to extend its best wishes and congratulations to the second place winner – David Murray of Bellingham, Washington – as well as the third place recipient – Zoe Stengel of Long Island, New York. Contest organizers would also like to thank all of the other talented designers who participated in this year's competition.
For more information about the 2019 Annual International Mars Society Convention, including online registration details and call for papers, please visit our web site (www.marssociety.org).