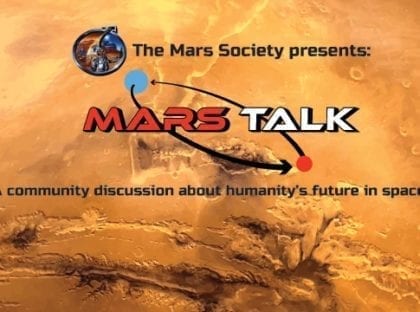 April 15, 2019
The Mars Society has released the first episode in a new podcast series titled "Mars Talk" which will be available in both video and audio formats on the organization's YouTube channel, via iTunes and the podcast's website www.MarsTalk.org.  Billed as "a community discussion about humanity's future in space", the bi-weekly podcast will feature Mars Society chapter leaders and other guests to discuss the Society's activities as well as those of individual chapters.  The podcast will also provide commentary on recent space news, such as commercial space activities and those of the worldwide space agencies.
The first episode of Mars Talk was recorded on Friday, April 12th and was hosted by Christopher Tarantola from the Mars Society's Chapter & Outreach team.  Christopher was joined by two co-hosts: James Burk, the Society's IT Director and organizer of the Seattle chapter, and Lucinda Offer, the Society's Executive Director and organizer of the UK chapter.  Christopher, James, and Lucinda provided commentary on the recent NASA return to the Moon announcements, SpaceX & Boeing's commercial crew activity, the recent Falcon Heavy launch of ArabSat-6A, Israel's SpaceIL mission to land on the Moon, India's anti-satellite test and its aftermath, recent discoveries of active groundwater on Mars, and several other current space-related news items.  In addition, Lucinda provided an introduction to the Mars Society and the recent projects and activities carried out by our worldwide network of chapters.
Mars Talk is planned to be a bi-weekly podcast and to eventually cover most/all of the current Mars Society chapters by interviewing their organizers and members.  Mars Talk will be extensively promoted on social media and other modern podcast distribution channels to create a large audience of interested viewers in the hope of advocating the activities of the Mars Society and bringing in new members who may not have been aware of the organization and its mission.
For more information, please visit www.MarsSociety.org or www.MarsTalk.org.