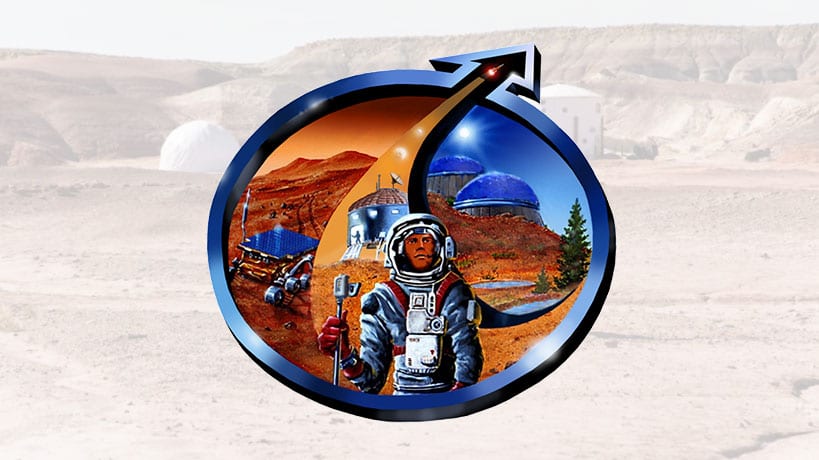 MDRS Crew 189 – Final Mission Report
The following is the final summary report of Mars Desert Research Station (MDRS) Crew 189 (ISAE – SUPAERO). A full review of this field season's activities at MDRS will be presented at the 21st Annual International Mars Society Convention, scheduled for August 23-26, 2018 at the Pasadena Convention Center (Pasadena, California).
MDRS End of Mission Report
Crew 189 – ISAE SUPAERO
February-March 2018
1)   Introduction
a- MDRS 189 mission origins
Crew Member / Country / MDRS Role
Victoria Da-Poian / France / Commander
Louis Mangin / France / Commander
Jérémy Auclair / France / Greenhab Officer
Benoit Floquet / France / Astronomer
Laurent Bizien / France / Health & Safety Officer
Gabriel Payen / France / Crew Engineer
Alexandre Martin / France /Crew Journalist
Team ISAE Supaero has begun their fourth rotation at MDRS, comprised of three weeks of intense research, team building and simulation training on Mars. Our team is composed of seven highly motivated scientists, engineers from the French aerospace engineering school ISAE Supaero.
b-    Crew objectives
To productively function as an interdisciplinary team of aerospace engineering students
To gain team and individual experience in a Mars analog simulation
To learn from the team's collective background and experiences
To produce a scientifically publishable report, including experimental results
To promote awareness and passion for space exploration via education and outreach
To conduct engaging experiments that will be shared on the team website
To share with the public how research is conducted in an analog situation
To study crew group dynamics and teamwork of a Mars analog mission
To obtain scientific results for our sponsors (human factors researchers, CNRS researchers)
To improve the EVA performances during our simulation
To fix and clean materials in the station
2)   Crew 189
a- Crew bios
Victoria Da-Poian will be the Commander of the MDRS-189 mission. She is one of the two veterans taking part in the new mission as she was member of the MDRS-175 crew as the biologist. She is an active member of ISAE Supaero space events as she organized the SpaceUp France in 2017 and took part in different space related associations (space pole and cubesat club). She was also vice-president of the « Junior Enterprise » of ISAE-Supaero (Supaero Junior Council) and Ambassador of the social and cultural expansion of our school (OSE ISAE Supaero). After her 2017 mission, she completed an internship at the Astronaut Training Center in Cologne (ESA / EAC), and is currently doing an academic exchange in Moscow. In her free time, she enjoys practicing piano, violin and climbing.
Louis Mangin will be with Victoria the commander of the MDRS 189 mission. He was already part of the crew 175 as the journalist. He is currently working as a trainee in Lyon in a start-up that uses the latest AI technologies to minimize the electrical consumption of buildings. When he was living on the campus, he was a rower in the ISAE-Supaero rowing team, organizer of the Supaerowing student regatta, and a tutor with the social association OSE ISAE Supaero. In his free time, he is also a runner, a mountain-climber, a cinephile or a poker player.
Laurent Bizien will be the Health and Safety Officer of the MDRS-189 crew. Promotion 2019 of ISAE Supaero, he is the current treasurer of the school's charitable association (Solid'aires). As a volunteer firefighter as a lifeguard on the beaches, he passed several first aid diplomas. He is a candidate for a semester at the Moscow State University and an internship at NASA. In his free time, he practices baseball, volleyball and skydiving.
Franco-American born in France, Jérémy Auclair will be the GreenHab Officer and the Biologist on board. Promotion 2019, he is an active member of the club, very invested for the smooth running of the next mission. Passionate about space and astrophysics from his young age, this mission is one more way to flourish in his formation. He plans to do an internship in North America in the field of aerospace. He is also an active member of the school's associative life, and various clubs with varied backgrounds. During his free time, he enjoys practicing sports, rowing and volleyball, as well as getting lost in reading and taking pictures. He will also be the photographer of the mission.
Promotion 2019, Benoit Floquet will be the astronomer of the MDRS-189 mission and is the current treasurer of the club M.A.R.S. Passionate about the space domain for many years, he is also involved in our school's associative life. He is responsible of the Solidarity pole of the Students Association and takes part into the entrepreneurship (ISAE Supaero Entrepreneurs) association in the communication pole. Also a sportsman, he has been practicing gymnastics for 15 years and skydiving. He applies for a Master in Innovation at the French famous school « Polytechnique ».
Promotion 2019, Gabriel Payen will be the on-board flight engineer of the MDRS-189 mission and is the current president of the M.A.R.S club. He is also member of the student association as event manager. He has been a sportsman for several years and has been focusing for one year on mountain sports, such as climbing, mountaineering and skiing. He began this year a three- years research formation in applied mathematics. He applies for his gap year for the UNIS University located in an Arctic circle archipelago where he would study geophysics for six months.
Alexandre Martin, also promotion 2019 will be the journalist during the MDRS-189 mission. He is a member of the ISAE Student Association as chairman of the communication department. He shares his free time between the football club, of which he is the president and captain, tennis but also kite surfing club. He is fascinated by space, mathematics and economics. He is currently applying for a master's degree in financial mathematics in the United Kingdom.
To read the full mission summary, please click here.