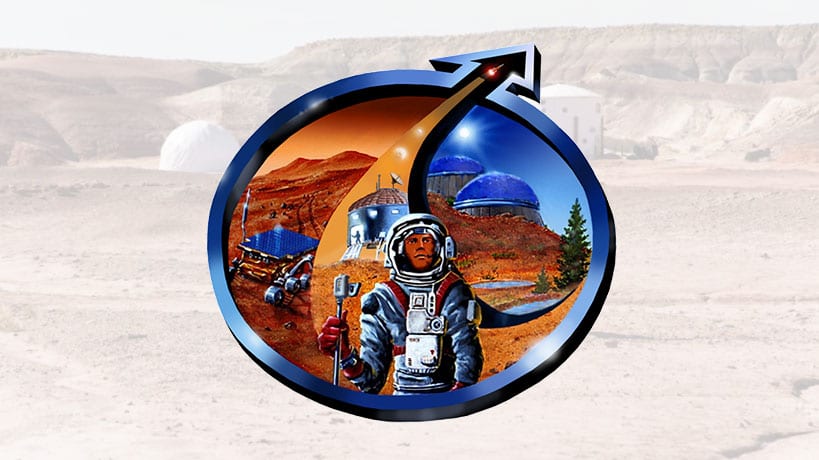 Call for Papers
21st Annual International Mars Society Convention
August 23-26, 2018, Pasadena Convention Center
Presentations for the 21st Annual International Mars Society Convention are invited dealing with all matters (science, engineering, politics,
economics, public policy, etc.) associated with the human exploration and settlement of the planet Mars.
Abstracts of no more than 300 words should be sent by June 30, 2018 to: The Mars Society, 11111 West 8th Avenue, Unit A, Lakewood, CO 80215 or via email to: abstracts@marssociety.org (e-mail submissions preferred). Those submitting abstracts for consideration are asked to follow this sample version.
Conference Sessions
1. The Question of Life on Mars
2. Latest Findings from the Mars Probes
3. Plans for the Missions of 2018 & Beyond
4. Concepts for Future Robotic Mars Missions
5. Planning for Human Mars Missions
6. Advanced Space Propulsion
7. Launch Vehicles for Mars Exploration
8. Long Range Mobility on Mars
9. Life Support & Biomedical Factors
10. Human Factors & Crew Composition
11. In-situ Resource Utilization
12. Habitat Construction & Industrial Infrastructure
13. Martian Agriculture
14. The First Martians – A Permanent Mars Base
15. Terraforming – Creating an Ecology for Mars
16. How Martian Technology Can Help Life on Earth
17. Technologies for Reaching for the Stars
18. Analog Studies Relating to Mars Exploration
19. The Flashline Mars Arctic Research Station
20. The Mars Desert Research Station
21. Rovers, Robots, Aircraft & Mobile Agents
22. Entrepreneurial Approaches to Mars Missions
23. Benefits of Space Exploration
24. The Moon: Way Station to Mars?
25. Planetary Protection: Necessity or Fraud?
26. International Cooperation & Agencies
27. Law, Governance & Social Systems for Mars
28. Why Mars?
29. Mission Ethics: Is Safety an Option?
30. Educating the Next Generation of Marsnauts
31. Deep Space Gateway: Breakthrough or Boondoggle?
32. Political Advocacy for Mars Exploration
33. Chapter Tools & Outreach Strategies
34. Proposed Projects for the Mars Society
35. University Rover Challenge
36. Religion, Philosophy & Space Exploration
37. Phobos & Deimos: Mars Moon Landings
38. Achieving Inexpensive Access to Space
The Pasadena Convention Center is conveniently located in the Los Angeles metropolitan area (near NASA's Jet Propulsion Laboratory and SpaceX) and may be reached via the Los Angeles International Airport (LAX) or the Bob Hope Airport in Burbank, California.
Online registration for the 2018 Mars Society Convention is now available. Please consider taking advantage of our 'Early Bird Special' ticket options.
Full information, including a list of plenary speakers, convention sponsorship opportunities, volunteer needs and other relevant details, will be posted on the organization's web site in the near future.