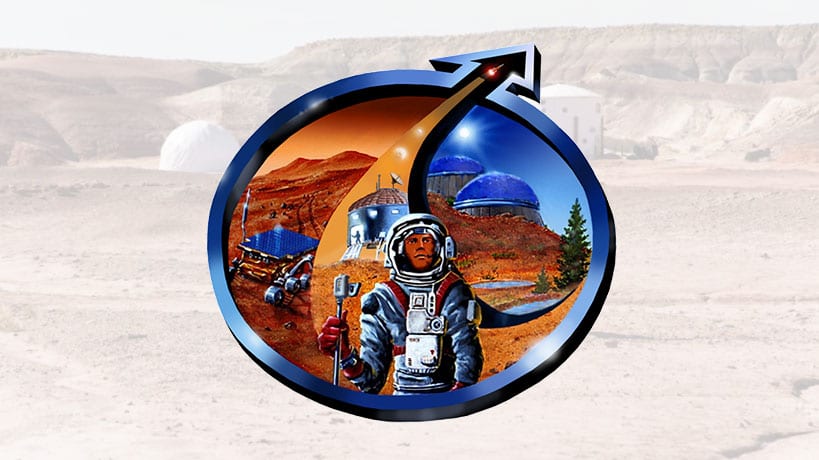 The Mars Society is sponsoring a Student Mars Art (SMArt) Contest, inviting youth from around the world to depict the human future on the planet Mars. Young artists from grades 4 through 12 (ages 8 to 18) are invited to submit up to three works of art each, illustrating any part of the human future on the Red Planet, including the first landing, human field exploration, operations at an early Mars base, the building of the first Martian cities, terraforming the Red Planet and other related human settlement concepts.
The SMArt Contest will be divided into three categories: Upper Elementary (grades 4-6), Junior High (grades 7-9), and High School (Grades 10-12). Cash prizes of $1,000, $500 and $250, as well as trophies, will be given out to the first, second and third place winners of each section. There will also be certificates of honorable mention for those artists who don't finish in the top three, but whose work is nevertheless judged to be particularly meritorious.
The winning works of art will be posted on the Mars Society web site and may also be published as part of a special book about Mars art. In addition, winners will be invited to come to the 20th Annual International Mars Society Convention at the University of California, Irvine September 7-10, 2017 to display and talk about their art.
Mars art will consist of still images, which may be composed by traditional methods, such as pencil, charcoal, watercolors or paint, or by computerized means. Works of art must be submitted via a special online form in either PDF or JPEG format with a 10 MB limit. The deadline for submissions is May 31, 2017, 5:00 pm MST. By submitting art to the contest, participating students grant the Mars Society non-exclusive rights to publish the images on its web site or in Kindle paper book form.
Speaking about the SMArt Contest, Mars Society President Dr. Robert Zubrin said, "The imagination of youth looks to the future. By holding the SMArt Contest, we are inviting young people from all over the world to use art to make visible the things they can see with their minds that the rest of us have yet to see with our own eyes. Show us the future, kids. From imagination comes reality. If we can see it, we can make it."
Questions about the Mars Society's SMArt Contest can be submitted to: Marsart@marssociety.org.