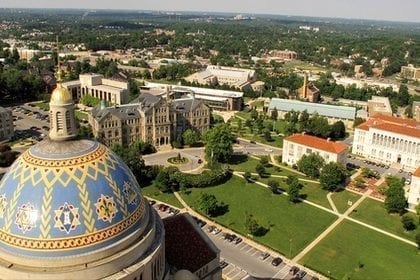 Since its founding, the Mars Society has consistently been a major advocate of STEM (Science, Technology, Engineering and Mathematics) education, viewing this as a critical need if humanity is ever to begin seriously exploring the solar system, including the planet Mars, and moving in the direction of becoming a multi-planetary species.
As part of this, the Mars Society has organized a special panel discussion on the subject of "STEM Education & the Pathway to the Human Exploration & Settlement of Mars" for the 19th Annual International Mars Society Convention, scheduled for September 22-25, 2016 at the Catholic University of America in Washington, D.C.
Participants in the STEM panel discussion will include:
Jennifer Mandel, Director, STEM Programs, Lockheed Martin Corporation
Jennifer Mandel is responsible for leading Lockheed Martin's STEM philanthropic giving and employee volunteerism. Part of her portfolio includes leading Generation Beyond, a program to spark student interest in STEM and inspire the next generation of astronauts and engineers. Prior to this, Ms. Mandel managed strategic communications for the transportation solutions line of business within Lockheed Martin Information Systems & Global Services.
Alyssa Carson, Teen-Age Astronaut-in-Training & STEM Advocate
Alyssa Carson has dreamed about being an astronaut visiting the planet Mars since a young age. A regular participant in NASA space camps and other astronaut-related training programs, Ms. Carson hopes to be among the first persons on the Red Planet in the 2030s. She is also an in-demand public speaker at schools and conferences regarding the importance of STEM education.
Bob Barboza, STEM Advocate & Founder, Kids Talk Radio Science
A former high school teacher, Bob Barboza is a major proponent of STEM education and space exploration for young students through a variety of related initiatives. Mr. Barboza founded and hosts a popular online podcast called Kids Talk Radio Science and established the Barboza Space Center in the Los Angeles area, a teaching and learning platform for future astronauts, engineers and scientists interested in exploring the planet Mars.
Nicole Willett, Panel Moderator & Mars Society Education Director
Nicole Willett is the long-serving Director of Education for the Mars Society and a member of the organization's Steering Committee. Currently an astronomy instructor at Benedictine Military School in Savannah, Georgia, Ms. Willett authors the Mars Society's Red Planet Pen blog and serves as a regular contributor to many science-related magazine articles, books and online news sources. In addition, she is an Astronomy Professor at Savannah College of Art & Design and is pursuing her Master's degree in Astronomy.
For more information about the 2016 International Mars Society Convention, including registration details, a list of confirmed speakers and hotel accommodations in the Washington, D.C. area, please click here. The full program itinerary, including the date/time of the STEM panel discussion, is scheduled for release next week via the Mars Society web site (www.marssociety.org).