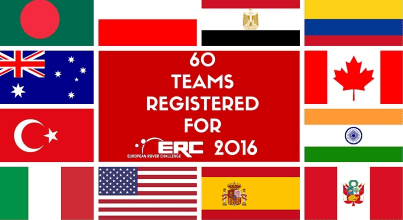 60 teams have registered for the Third Annual European Rover Challenge (ERC). They hail from 12 countries, including Canada, Italy, Poland, Peru and the U.S. The final round of the competition will take place in Jasionka, Poland, September 10-13, 2016.
In addition to participating in this major Mars rover competition, one of the main cores of the Rover Challenge series sponsored by the Mars Society, teams this year will participate in a mentoring workshop, according to ERC Director Lukasz Wilczynski. All the teams participating in the various rover challenges (ERC, the University Rover Challenge in the U.S. and the UK University Rover Challenge) will earn points, and at the end of the season, the best team in the robotic world will be announced.
A major task awaits the teams that have signed up for the 2016 ERC competition. It involves the preparation of The Preliminary Report, which should contain detailed information on their rover project. The deadline for this report is May 5, 2016. Based on the total score of this section and of the Proposals (submitted by the teams along with their applications) that are currently being evaluated by judges, the best teams will be selected to compete for victory this September.
The ERC is not only the largest competition in Europe, but is also a major business zone for space industry-related and scientific/technology shows dedicated to a wide audience, including families with children. ERC is a very special educational event, having attracted in previous years a total of over 50,000 spectators.
Registered Teams:
Australia
• BLUEsat Off-World Robotics, UNSW Australia
Bangladesh
• IUT MARS ROVER: Islamic University of Technology
• Mongol Barota: Military Institute of Science and Technology
• BRACU Avengers: BRAC University
• Gear of Tigers: American International University-Bangladesh,  North South University, Independent University
• AIUB Robotic Crew: American International University
• #mars_rover_uiu: United International University
• SUST_OPTIMISTIC: Shahjalal University of Science & Technology, Sylhet
• Mongol Ovizatrik 71: Chittagong University of Engineering and Technology
• Interplanetar: Bangladesh University of Engenering & Technology (BUET)
• BUBT Mongolchari: Bangladesh University of Business & Technology (BUBT)
• Innotus: Military Institute of Science and Technology
• NSU Spark: North South University, Dhaka, Bangladesh
Canada
• Queen's Space Engineering Team (QSET): Queen's University in Kingston, Ontario
• McGill Robotics: McGill University
• University of Saskatchewan Space Design Team (USST): University of Saskatchewan
• WE FIRST: Western University
• University of Regina Space and Robotics: University of Regina
• Carleton Planetary Robotics Team (CPRT): Carleton University
Colombia
• SPIICA TEAM: Instituto de Astrobiología de Colombia – International Partnership NAI NASA
Egypt
• RED TEAM: Cairo University
• Ten In Black Team: Mansoura University
• Robust team: Mansoura University
• The Geeks: Zewail City of Science and Technology – University of Science and Technology
• The Elite team: Misr University For Science and Technology
• Breakin Point: Mansoura University Faculty of Engineering,  Mansoura University Faculty of Computer Science, Mansoura University Faculty of Commerce
India
• SEDS-VIT: Vellore Engineering College; VIT University
• RoverX: Vellore Institute of Technology
• IITB Mars Rover Team: IIT BOMBAY
• SAVEEBOT: Saveetha University
• Anveshak: Indian Institute of Technology Madras (IIT Madras)
• Amrita Mars Rover Team: Amrita University
Italy
• Team D.I.A.N.A.: Polytechnic University of Turin
• MORPHEUS: University of Padova
Peru
• PUCP Space Robotics: Pontificia Universidad Católica del Perú – PUCP, Universidad Nacional Agraria La Molina – UNALM, Universidad Nacional de Ingeniería – UNI, Universidad Nacional Mayor de San Marcos – UNMSM
• SCAP ROVER TEAM: Sociedad Científica de Astrobiología del Perú – SCAP
Poland
• Orion Team: Lublin University of Technology
• Nex Robotics: Gdańsk University of Technology
• FUPLA: Kielce University of Technology
• Projekt #next: Bialystok University of Technology
• PCz Rover Team: Czestochowa University of Technology
• Frog on Mars: Młodzieżowy Dom Kultury w Stargardzie
• Bekker Team: Warsaw University of Technology
• AGH Space Systems: AGH University of Science and Technology
• Kameleon Team: Opole University of Technology
• IMPULS: Kielce University of Technology
• University of Warsaw Rover Team: University of Warsaw
• CybAiR Rover Team: Poznań University of Technology
• Legendary Rover Team: Rzeszow University of Technology
• Project Scorpio: Wrocław University of Technology
• T4 Team: Uniwersytet Technologiczno-Przyrodniczy in Bydgoszczy
• Continuum: University of Wrocław
• Raptors: Technical University of Lodz
• Ares III Team: Warsaw University of Technology
• Student's Scientific Association "Integra": University of Science and Technology AGH
Spain
• EHUSpace: University of the Basque Country UPV/EHU
Turkey
• OzU Rover Team: Ozyegin University
• TFR Robotics: Denizli Techno City
USA
• NYU Lunabotics: New York University
• ROVER Society: University of Texas at Arlington