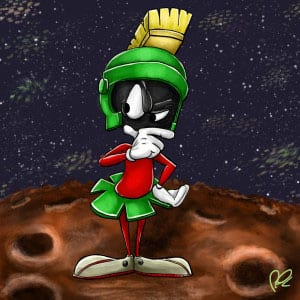 By Bob Bruner
Guest Blogger, Red Planet Pen, #34
Bob Bruner is an amateur scientist that has attended all the 'Case for Mars' conferences given by the Mars Underground in the 1980's and 1990's and joined the Mars Society at its founding.  This story is a case of an amateur scientist actually having an impact on NASA decisions for its next big mission to Mars, the Mars 2020 rover, by suggesting a specific mineral to cache and return to Earth in the 2020's.
The new year is a time many of us look back on what has been accomplished and look forward to the promises the future holds.  I grew up in Des Moines, Iowa, and in 1948, when I turned 10, my father gave me a 3-inch diameter reflecting telescope with a cardboard tube with which to observe the stars and planets.  My uncle gave me a box of rocks and minerals of many shapes and colors.  I spent many a summer evening looking through the telescope, mainly at planets like Jupiter, Saturn, Venus and Mars.  I also collected more rocks and minerals to go with my starter collection.  Little did I know how important collecting rocks and minerals would be in the future.
To read the full blog, please visit: http://education2.marssociety.org/its-never-too-late-to-fulfill-your-childhood-dreams-issue-34/