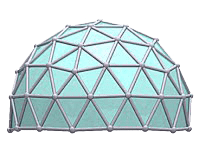 We're pleased to announce that the Mars Society just reached the 100% funding mark for its Mars Desert Research Station GreenHab crowdfunding campaign! We were able to accomplish this important goal due to your generous support… three days early. Over 140 people from the U.S. and several other countries have donated – so far – to the online campaign.
As with most crowdfunding efforts, campaign planners typically prepare stretch goals in case the desired mark is reached before the scheduled end date. With the well-known enthusiasm of Mars and space advocates, we were very confident of our success and, as expected, fall into that category. We have prepared a number of stretch goals – beyond the initial $10,000 goal – for our MDRS GreenHab rebuild initiative, which can be found on the Indiegogo campaign page.
Thank you again for your tremendous support of our MDRS GreenHab program, especially over the past 36 hours. If possible, please continue to contribute over the remaining three days towards our stretch goals, all of which benefit the soon-to-be-built GreenHab, which will, once again, serve as the cornerstone of our food and plant research effort to benefit future human exploration and settlement of the Red Planet.