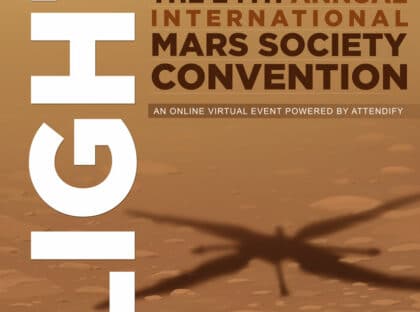 Use Your Creativity to Commemorate the 25th
Annual International Mars Society Convention!
The Mars Society held its first international forum a quarter of a century ago in Colorado bringing together dozens of leading scientists and members of the global space community to discuss plans for a human mission to the planet Mars.

This year, the Mars Society will be holding its 25th Annual International Mars Society Convention at Arizona State University on October 20-23, recruiting similar high-level space and science experts to participate in plenary talks, panel discussions, and public debates in order to lay out where we are now and what the future holds in terms of human Mars exploration and settlement.

To help mark this special occasion, Mars Society management is inviting members, friends, students, space advocates, and the general public from around the world to submit a design for consideration as part of its annual Mars Society poster competition.

The winning poster design will serve, as always, as the primary graphic to help Mars Society staff promote the organization's annual international conference.

The theme of this year's conference is "Searching for Life with Heavy Lift." Current heavy lift spaceflight options include NASA's SLS and SpaceX's Starship, both capable of carrying large payloads into orbit, to the Moon and on to Mars. This expanded capacity opens the door to a wide range of robotic and human exploratory missions to the red planet, significantly increasing the chances of finding ancient or present life on Mars.

The deadline for submitting a poster design is Thursday, June 30th, 5:00 pm MST. Artwork submissions should be sent via email to: postercontest@marssociety.org. Please also use this address for any questions related to the contest and/or the submission process.
Technical requirements for the contest are as follows: 1) The poster size should be 11″ x 17″, 2) There are no restrictions with regard to use of color, 3) If your poster is selected, the designer will need to submit a full color poster as well as a gray-scale copy, and 4) Poster designs can be submitted in Photoshop or as a .pdf file (the former is preferred). The winning poster design will be announced by the Mars Society during the week of July 11th.
Thank you for your involvement, good luck, and we hope you'll be able to join us at this year's international convention! For details, please visit: www.marssociety.org.
Use of Image: Artist gives permission to The Mars Society to use digital images(s) of art work in online and print media. Poster Contest Disclaimer: The Poster Contest Artist, by submitting an application, agrees to defend, indemnify and hold harmless The Mars Society from and against any and all claims, demands or expenses (including attorney's fees) for libel, slander, invasion of privacy, infringement of copyright, personal injury, damages, or any other claims, demand or expenses resulting from performance in connection with this agreement.