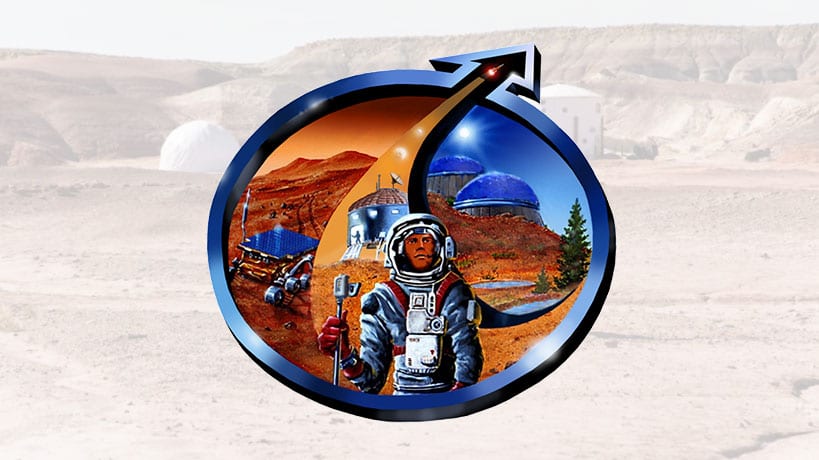 The Mars Society unveiled today the official crew patch for its Mars 160 mission, a twin desert-Arctic analog project using both of the organization's field research stations – the Mars Desert Research Station (MDRS) located in southern Utah and the Flashline Mars Arctic Research Station (FMARS) on Devon Island in northern Canada.
Mars 160 is an extended Mars surface simulation involving a unique program of field exploration, using the same crew to carry out similar science operations for the same period of time – 80 days – first at MDRS (as Mars Desert 80), scheduled to begin September 24, 2016, and then again at FMARS (as Mars Arctic 80) in June 2017.
Members of the multi-national crew include:
+ Dr. Alexandre Mangeot, Commander & Engineer (France)
+ Yusuke Murakami, Executive Officer (Japan)
+ Anastasiya Stepanova, Journalist (Russia)
+ Claude-Michel Laroche, Engineer, MD 80 (Canada)
+ Dr. Jonathan Clarke, Geologist (Australia)
+ Annalea Beattie, Health & Safety Officer (Australia)
+ Anushree Srivastava, Biologist (India & United Kingdom)
+ Paul Knightly, Geologist, MA 80 (U.S.A.)
+ Shannon Rupert, Biologist, Back-up Crew (U.S.A.)
The Mars 160 patch is divided into two halves, symbolizing the dual nature of the desert-Arctic mission, and includes a cairn at MDRS and an inukshuk at FMARS, human-made stone landmarks used by native peoples in regions of North America.
The new patch was created and donated by graphic artist Tim Gagnon of Titusville, FL and his long-time partner, Dr. Jorge Cartes of Madrid, Spain. The two veteran designers have been working together since 2007, producing dozens of original patches for NASA and its crewed space flight missions, including the Space Shuttle and the International Space Station.
"Tim and Jorge have a long and storied history of creating beautiful mission patches for space-bound crews. We're honored to have them to prepare a unique symbol for our upcoming Mars 160 mission, " said Michael Stoltz, Mars Society Director of Media & Public Relations.
The beginning of the Mars Desert 80 simulation at MDRS coincides with the third day of the 19th Annual International Mars Society Convention, which is being held September 22-25 at Catholic University in Washington, D.C. To mark the occasion, crew members of Mars 160 will participate in a Skype telecom with the convention, allowing those in attendance to "meet" and talk with the crew before they close the hatch on the MDRS hab in the Utah desert and begin their 80 day Mars simulation. The Skype crew meeting will be available for live viewing via the convention's webcast, with exact details to be provided in the week prior to the event.