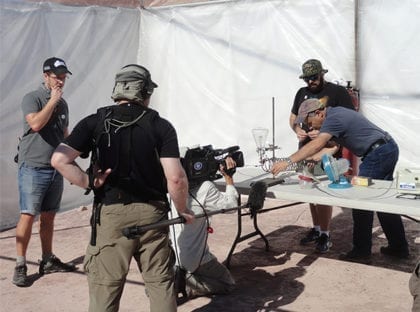 The Mars Society's Mars Desert Research Station (MDRS), the world's longest-serving Mars surface simulation habitat located in southern Utah, played host to a group of twelve international entertainment and science bloggers last weekend. Organized by 20th Century Fox, one of the largest U.S. film studios, the media visit to MDRS was set up as part of the company's ongoing effort to promote the Ridley Scott-directed film, The Martian, which is due out in theaters October 2nd.
During the two-day visit, members of the online media toured the Mars Society facility and learned from MDRS staff about the crew simulations that take place at the habitat every year from October through May. To help the bloggers gain a better understanding of the challenges faced by Matt Damon's character, astronaut 'Mark Watney', in The Martian, a set of Mars-oriented challenges was organized by the Mars Society and 20th Century Fox.
Visiting bloggers were put through a series of tests and experiments at MDRS and in the surrounding area that recreated survival situation scenes from The Martian movie. These included:
Creating water from hydrogen and oxygen,
Repairing a radio and using a solar panel to communicate with Earth,
Cooking a Martian meal using space food and potatoes,
Holding a scavenger hunt among spacecraft wreckage to find missing equipment.
Commenting on the visit to MDRS, Shannon Rupert, MDRS Director, said, "This was a unique opportunity for us to share with a much broader audience the type of Mars simulation training and research that is being carried out at our Mars Desert Research Station in Utah. It was an exciting weekend for us."
Don't forget to see The Martian next week!