These are instructions on how to Register and Access our virtual convention experience for the 25th Annual International Mars Society Convention – October 20-23, 2022
---
Here are the step-by-step instructions on how to register for and join the event virtually:
Step 1: Click on this link to Register, or visit CONVENTION.marssociety.org
---
Step 2: You will be taken to the virtual conference page:

---
Step 3: Click the big blue "Register" button. You will now be taken to a Zoom Sign In Page. (If you happen to already be signed into Zoom, go on to Step 5.)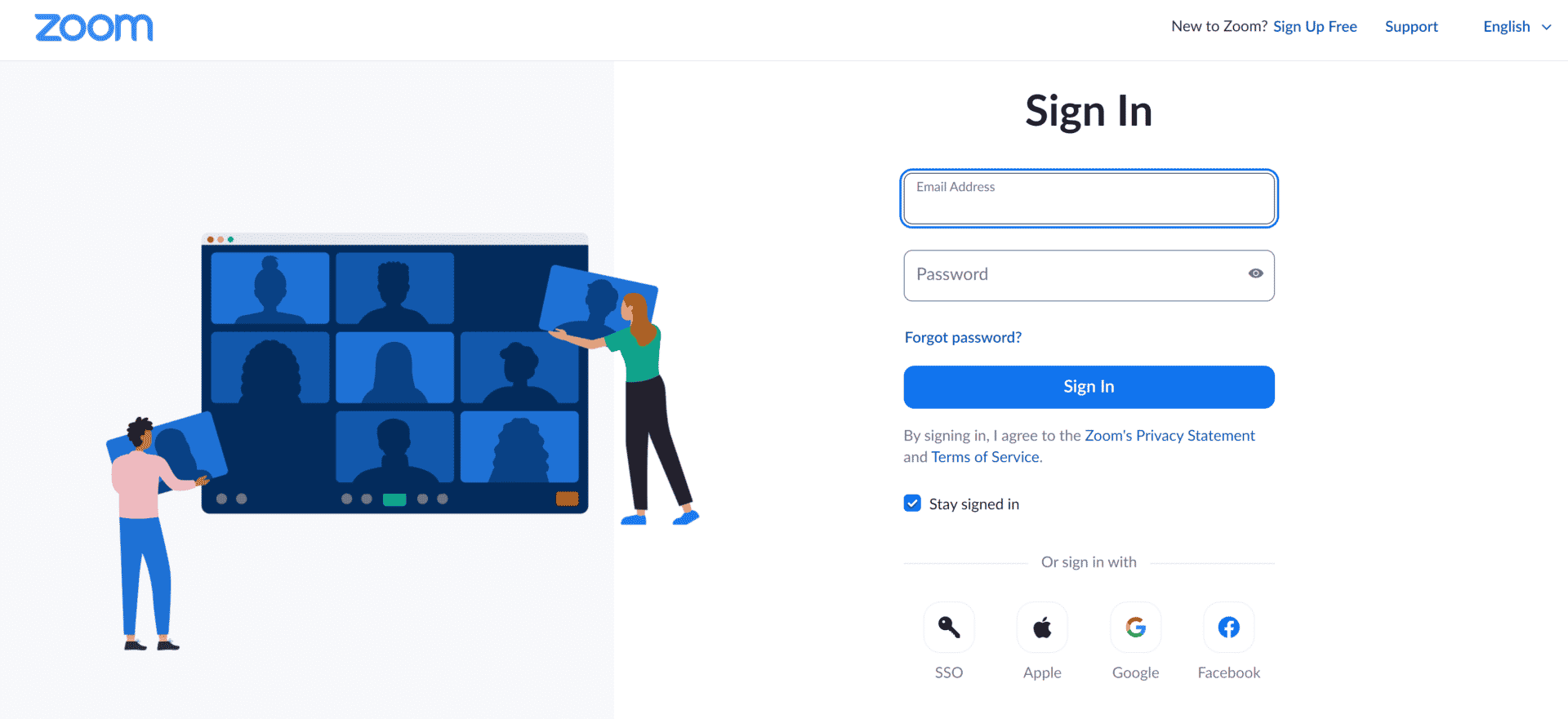 ---
Step 4: If you already have an existing Zoom account, you may sign in using it.
If you don't have a Zoom account, you can use the links at the bottom to sign in with an Apple, Google, or Facebook login. You can also click the "Sign Up Free" link at the top of the page to create a Zoom account with an existing email address.
Note: We recommend you use the same email address for both your Zoom account and your Mars Society membership, but it is not required to do so.
If you have trouble logging into Zoom or creating a new Zoom account, please do not contact the Mars Society, instead contact Zoom's Support team using this link to open a support ticket: https://support.zoom.us/hc/en-us/requests/new?ticket_form_id=360000983032
---
Step 5: Once you sign in, you will be taken to the checkout registration page for our conference. Please check the three boxes and click "Confirm Registration" at the bottom of the page.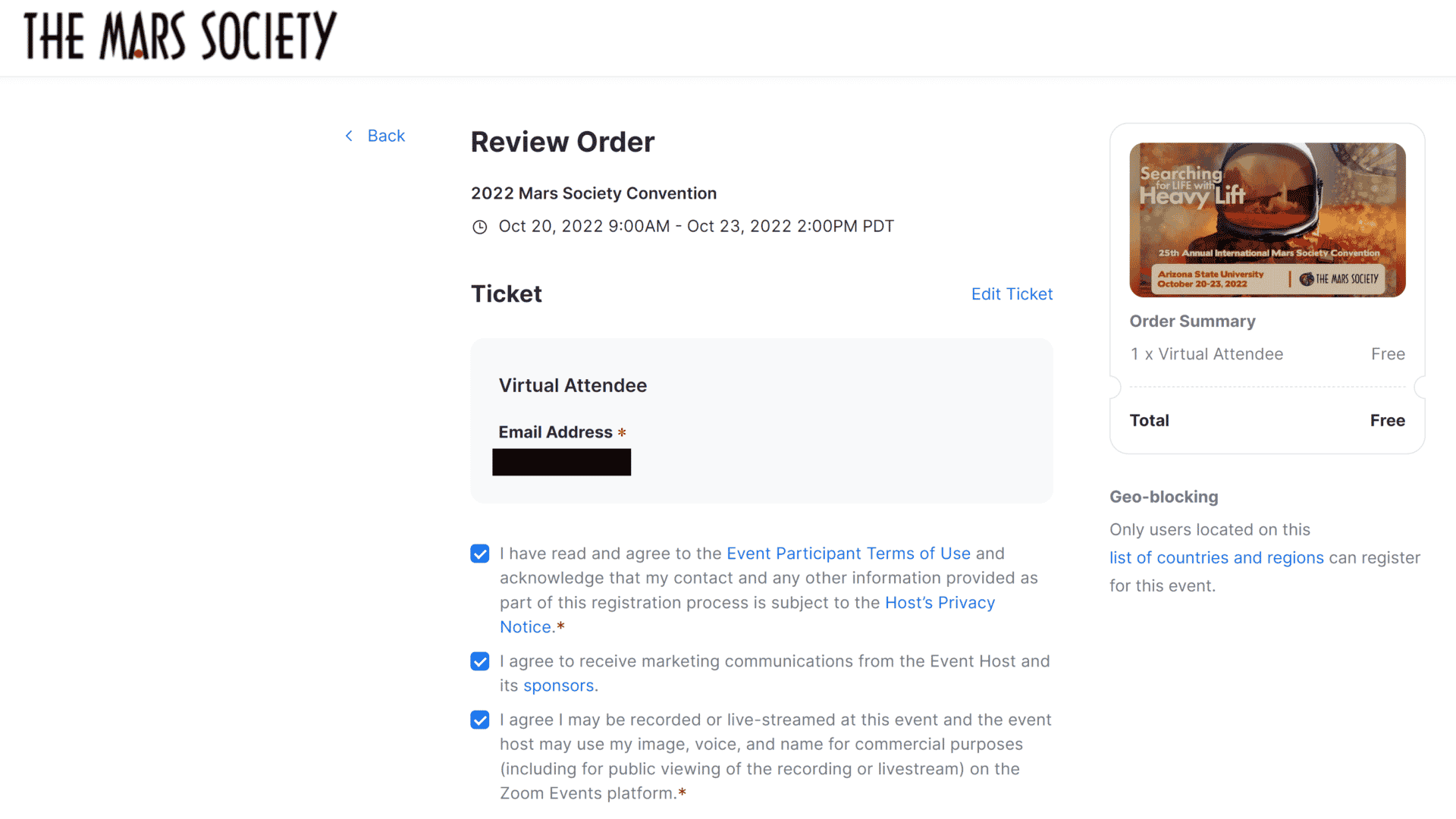 Note: the third checkbox agreement mentions "commercial purposes". The Mars Society will not sell or otherwise use your image, voice or name for any purpose other than sharing of recordings. We will not sell or give your personal information to anybody.
If you do not consent to all of these terms, please do not register for the virtual experience. Instead, you may watch our live streams using Facebook or Youtube via our respective pages there. (see the top of our website for the links.)
---
Step 6: You will now reach the Registration Confirmation page, and here you can use the links to add the event to your calendar. (Google, Outlook, or iCal formats available)
You can also click the "Create My Profile" button to add your personal information. Note: this is an optional step, but is a good option for networking purposes. We anticipate that many attendees will do this, and by doing so you and they will be able to see each others' profiles and connect with each other through the Convention's virtual experience.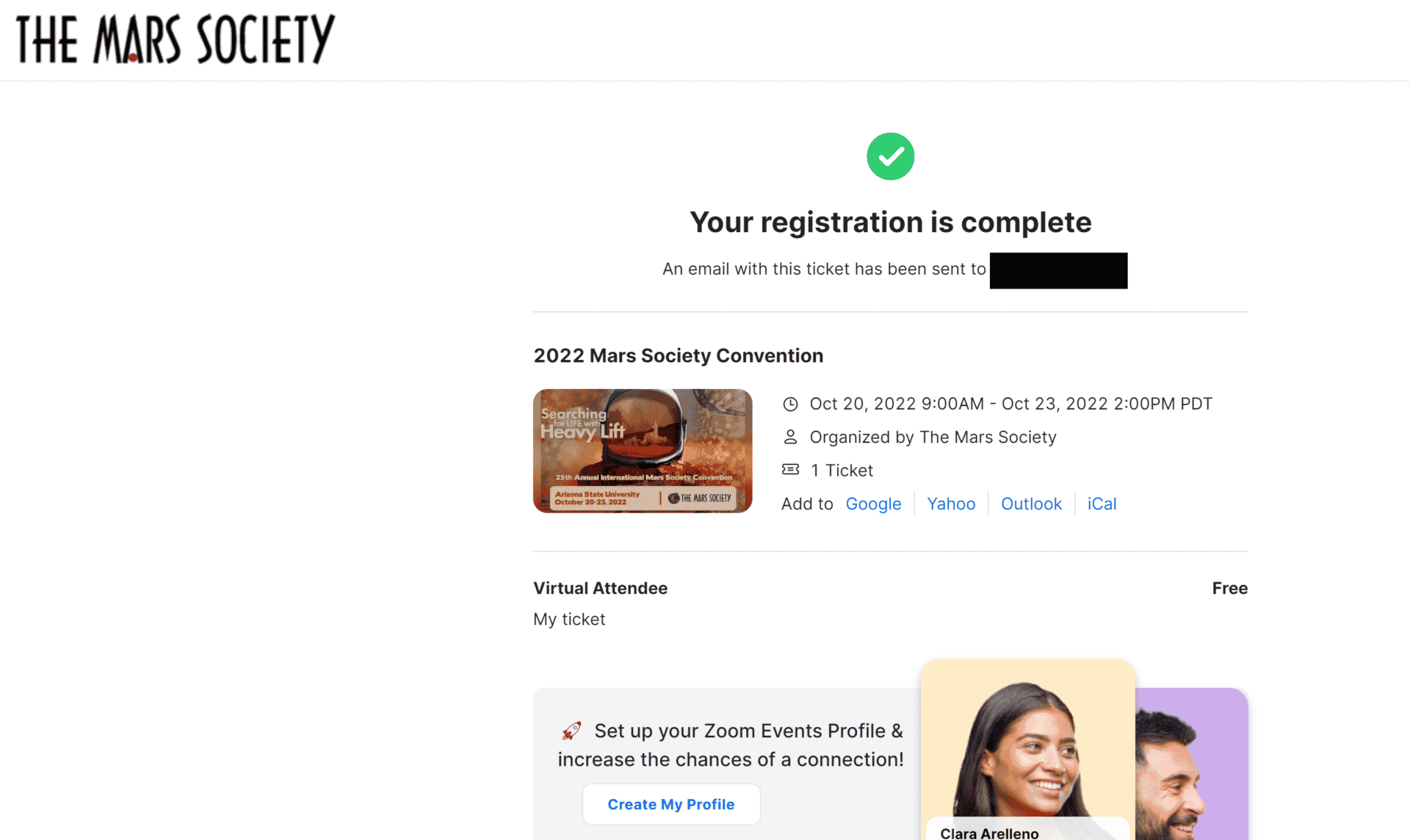 You may also view your ticket, which should look similar to this page: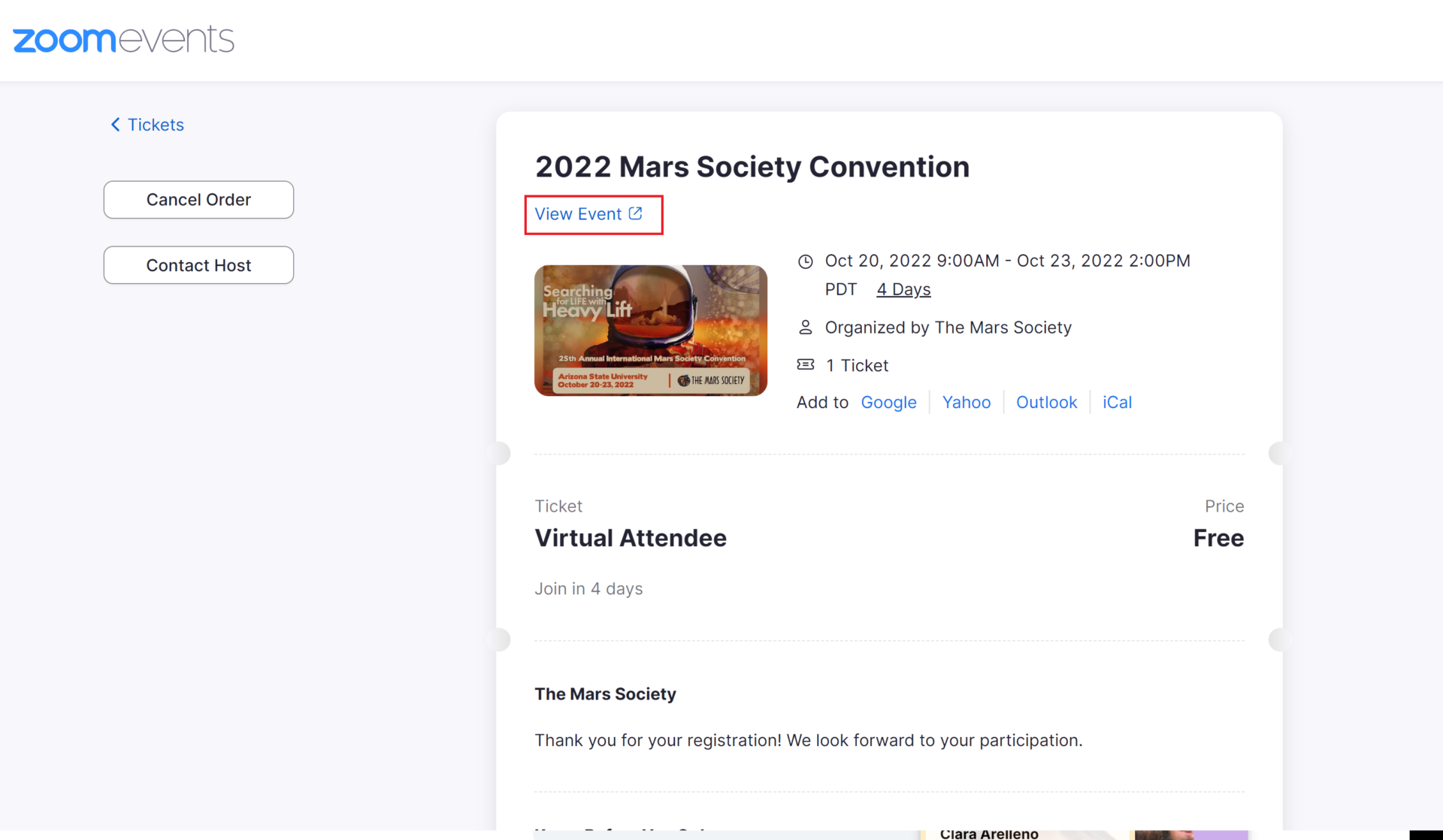 ---
Step 7: You may now return to the main conference page, now that you have registered. To do so, you can either click "View Event" from the ticket page, or by using this link, or by visiting CONVENTION.marssociety.org
Notice the convention page now has "View Ticket" as the big blue button. You can also scroll down on the page to get more information on the event.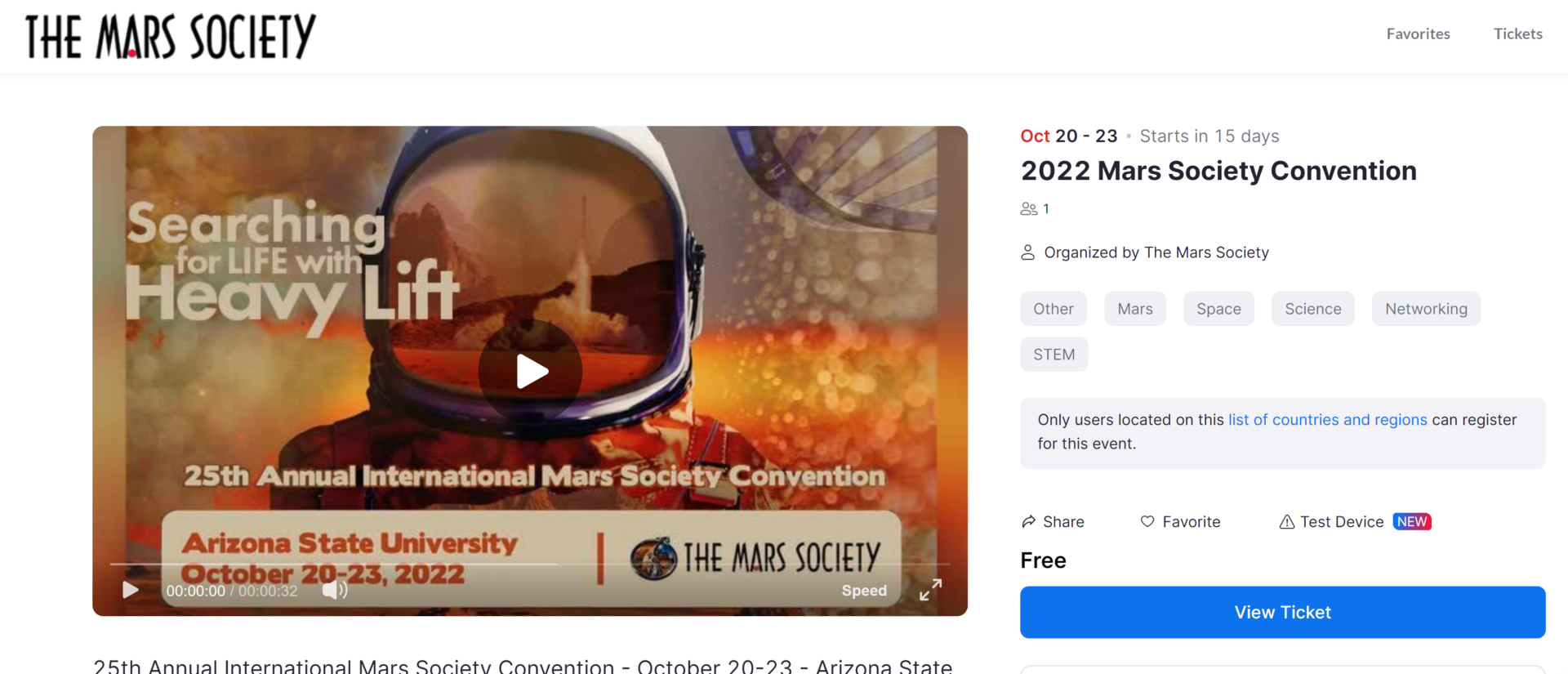 ---
Step 8: Now that you are registered, you may now enter our "Lobby" which is analogous to the main hall of a conference, where you can access all sessions, breakouts, and sponsor areas.
You can now join the Lobby of our event using your web browser or Zoom client.
Link to Lobby | or by using CONVENTIONLOBBY.marssociety.org
Note: We recommend downloading and installing the Zoom client software from Zoom.us on your computer or mobile device for the best possible experience.
Here is a help page from Zoom on how to install the Zoom client software.
Important: If you already have the Zoom meetings client installed, please upgrade it to the latest version. Here is a Help page from Zoom on how to upgrade the Zoom meetings client software.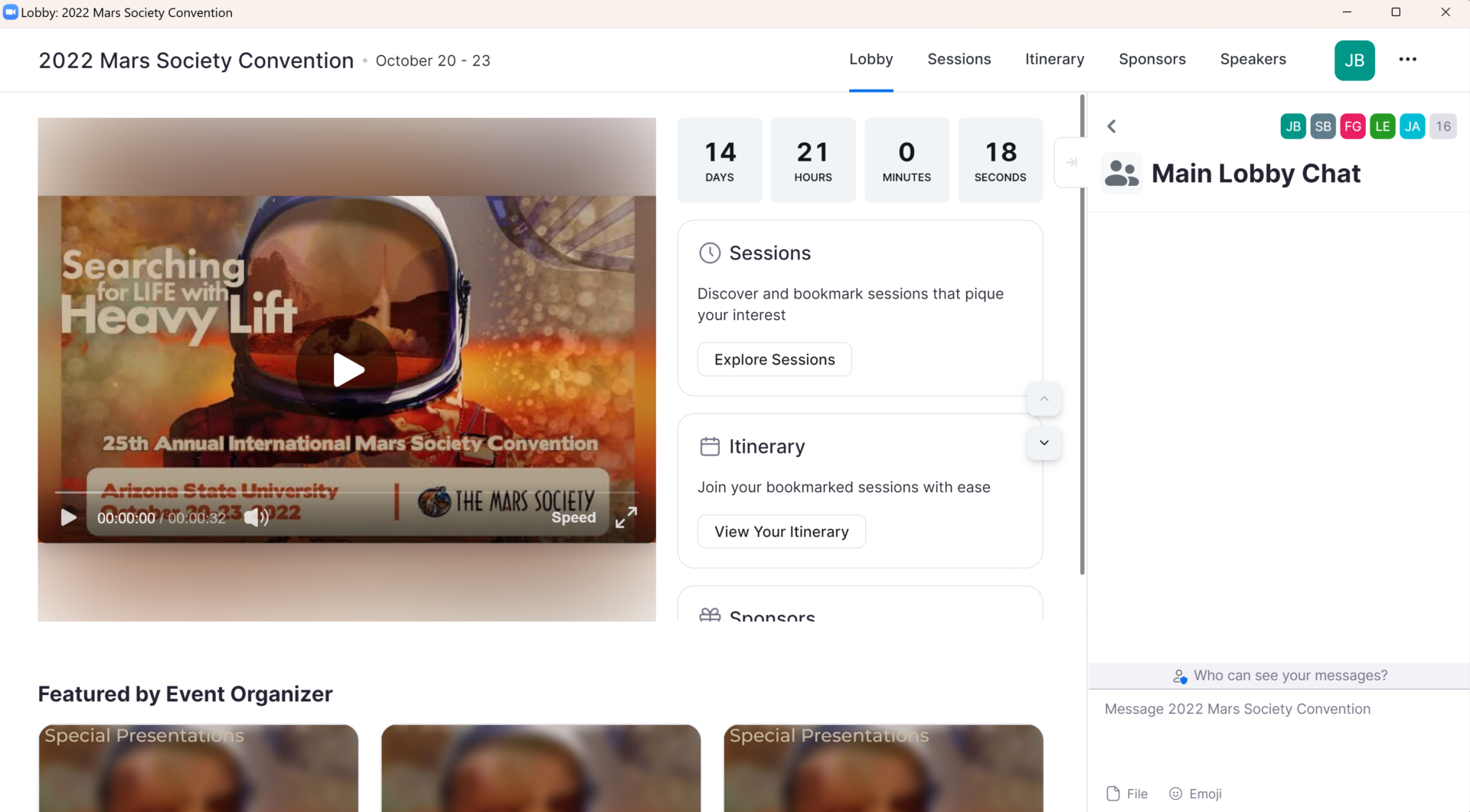 ---
Note: If you have any problems with registration and accessing the event that are not related to Zoom login, please contact our convention staff at convention-staff@marssociety.org. If you have problems with Zoom login, use the Support link above (in Step 4) to report the problem and get assistance from Zoom.
Thank you and we hope you enjoy the Convention!
The Mars Society Staff